Currently, there is no sports facility in the state with the purpose of serving individuals with intellectual disabilities.
Special Olympics is a global movement that unleashes the human spirit every day around the world through the transformative power and joy of sport. Through programming in sports, health, education and community building, Special Olympics is tackling the inactivity, stigma, isolation, and injustice that people with intellectual disabilities (ID) face. Our work goes far beyond sports events, driving social change that enables full social participation for people with ID.
By establishing a multi-purpose sports, education, fitness and wellness community in Kapolei, Special Olympics Hawai'i will take an important step in providing accessible facilities to persons with intellectual disabilities, allowing them to showcase their abilities – many for the very first time.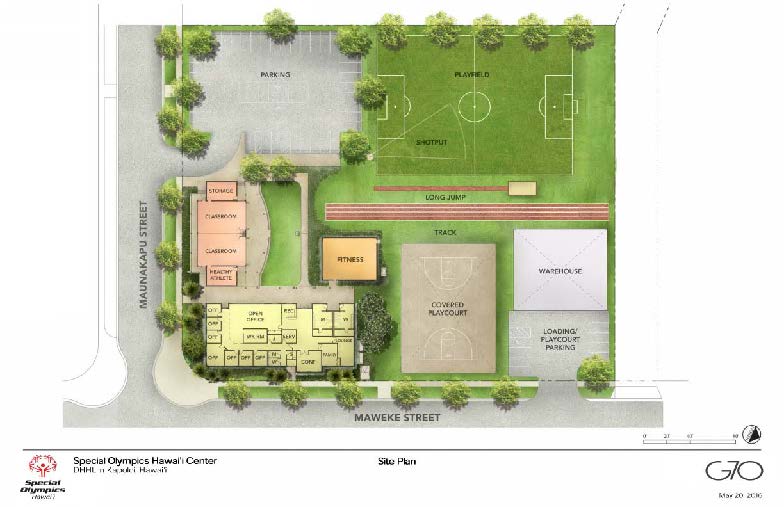 For events such as birthdays and weddings, set up an online fundraising page where you can invite people to contribute to Special Olympics Hawaii online through your event. You can also set up a fundraising page in honor of a loved one. Just click on the button below and get started with Firstgiving – they make it easy!
MAHALO TO OUR CAPITAL CAMPAIGN CABINET:
Tom Brauer (Chairman) – The Campbell Company
Todd Apo – Howard Hughes Corporation
Serge Krivatsy – Niu Associates
Sam Moku – Hawaii Pacific University
Shirley Swinney – Kapolei Community Development Corporation
VISIONARIES ($1,000,000 AND ABOVE)
State of Hawai'i Grant In Aide
City & County of Honolulu – CDBG
HEROES ($100,000 – $999,999)
Atherton Family Foundation
The James and Abigail Campbell Family Foundation 
Sam and Mary Castle Foundation
Dr. John and LeighAnn Frattarelli
HDS – Hawaii Dental Services
HMSA Foundation
The Estate of James Cunningham
McInerny Foundation
Jim Schuler Family Foundation/DR Horton
The Harry and Jeanette Weinberg Foundation
BELIEVERS ($50,000 – $99,999)
The James Campbell Company
Par Hawaiʻi
First Hawaiian Bank
Faye and Dexter Mar in Honor of Zachary
Dr. L.A. Siebert
HEI Charitable Foundation
Strong Foundation
LEADERS ($10,000 – $49,999)
Alexander and Baldwin Foundation
Bank of Hawai'i
Nancy Bottelo
Tim Brauer
Clint and Suzy Churchill
Hawaiian Cement
Howard and Audrey Karr
Matson Navigation Foundation
Kelvin Shigemura
Dr. Susan Stewart and Dr. Dennis Rowe
Eleanor Tyau Trust
Barry Whitfield
Luke Yeh
FRIENDS AND FANS ($1 – $999)
Bruce Bachle
Mike Betz
Dan Epstein
Dr. Joe Grote
Jeff Higashi
Nip Ho
Dwight and Ann Kealoha
Cory Kubota
Dennis Maher
Michael Matsushima II DDS
James Moniz
J. Stephen Street
Shirley Swinney
SUPPORTERS ($1,000 – $9,999)
Todd Apo
Keith Asato
Central Pacific Bank Foundation
Jade Ching
Kam Chun
Chris Dey
Disney Worldwide Services
First Insurance Foundation
Patrick Hartnett
Bob Hrobak in honor of Joy Hrobak
Hung Wo and Elizabeth Ching Foundation
Gwen Kagihara
Kurt Kendro
Serge Krivatsy
Murray and Karri Lee
Pete Luke
John Matheson
John Robinette
Barry Shain
Susan Siebert
Morrie Stoebner
Bob Sumitomo
Garrett Taira
Walk the Talk Fund of the Hawai'i Community Foundation
Craig Washofsky
Tom Weber
Dr. Billy Wilson
Ronald "Buzz" Wo